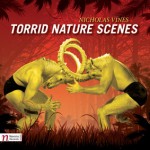 Torrid Nature Scenes release
Posted on May 28, 2013
Proud to acknowledge the release by Navona Records of Torrid Nature Scenes, an album featuring The Butcher of Brisbane (concerto for one saxophonist and several saxophones), Economy of Wax (a celebration of scientific enquiry) and the profane oratorio, Torrid Nature Scene. In addition to the music, the CD version included virtual scores, various media and a collection of essays.
Serious congrats to the soloists Eliot Gattegno, Adrienne Pardee, Paula Downes and Theo Lobo, the players of the Callithumpian Consort, the recording engineers, and of course, conductor and impresario Stephen Drury.
Check out the shop page for more information.